Not everybody is born into money, and even those who marry into extraordinary wealth sometimes prefer to do things their own way – right Meghan? There are lots of self-made millionaires out there too (including, of course, pre-Harry Meghan) and many of them began their journey to success by knuckling down with the books. So just what do you need to study at college if you hope to become rich?
The folks at resume.io put on their research hats to find out. They identified the richest person in (almost) every country in the world and found out what they studied at undergrad level. They then put all that information into a new series of maps to inspire the studious-yet-ambitious among you.
Why not check out the maps to see what your local billionaire did at school?
1. Africa
The ravages of free-market capitalism can be seen no more clearly than on the African continent, where the rich-poor divide between people is frankly dizzying. Even the divide between the richest in one country and another can be extreme: Aliko Dangote is Nigeria's richest man, and he has US$8.8 billion to his name. In Liberia, Benoni Urey has just a fraction of that wealth – around $32m – but he is still that nation's richest man.
Dangote studied Business Studies and Administration to formalize the trading skills he first developed selling candy to fellow pupils when he was at primary school. Liberia's Benoni Urey studied General Science, but he became a businessman – building his own housing and cellphone network empire.

2. Asia
The richest person in Asia is Mukesh Ambani of India. He quit his Business Studies MBA at Stanford to work for his father's fast-expanding company, with interests in petrochemicals, gas, retail, and telecommunications. When his father died, the huge company was split into two and divided between Ambani and his brother. Ambani's undergraduate degree is in Chemical Engineering, which he attained at the University of Mumbai.

3. Europe
Samir Mane is a great example of somebody who studied at the school of life. There are lessons all around – especially when you embroil yourself in experience-rich situations – so there is no need to panic if you can't afford to study (or if you are not the type who learns well from formal study programs).
Mane is Albania's richest person. He started on a geology program in Vienna and picked up the German language as he studied. But his real discovery was that he could make a buck selling cheap Austrian TVs and VCRs back home in Albania.

4. North America
Everybody knows America's richest man, the wealthiest shopkeeper in the world: Jeff Bezos. He studied Electrical Engineering and Computer Science at Princeton, which is perhaps where he picked up the ruthlessness to exploit his employees and allegedly force small independent traders out of business. Remember folks, whatever you study – treat your employees with love and care, because they're the ones that keep you rich! (Also because they're human beings).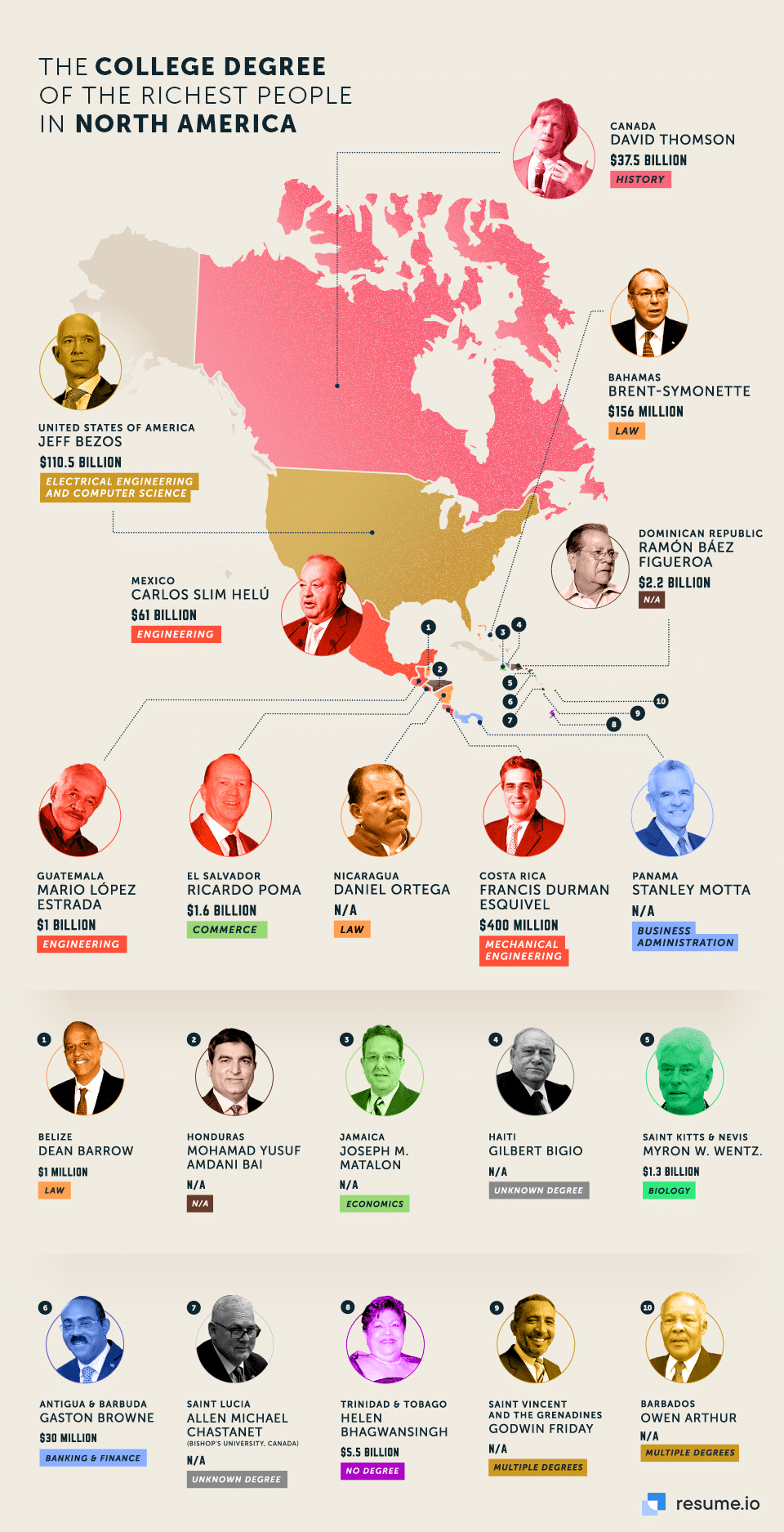 5. South America
The richest person in Chile is also the world's richest Latina – and she has no degree. Iris Fontbona took over her late husband's mining and beverages business in 2005, expanding and diversifying to swell her already juicy family fortune.
But the overall richest person in South America has a degree in Economics from Harvard. Jorge Paulo Lemann of Brazil has $24.6 billion in his pocket. He is the majority shareowner of the world's largest brewer, having made his bucks through his investment firm, 3G Capital.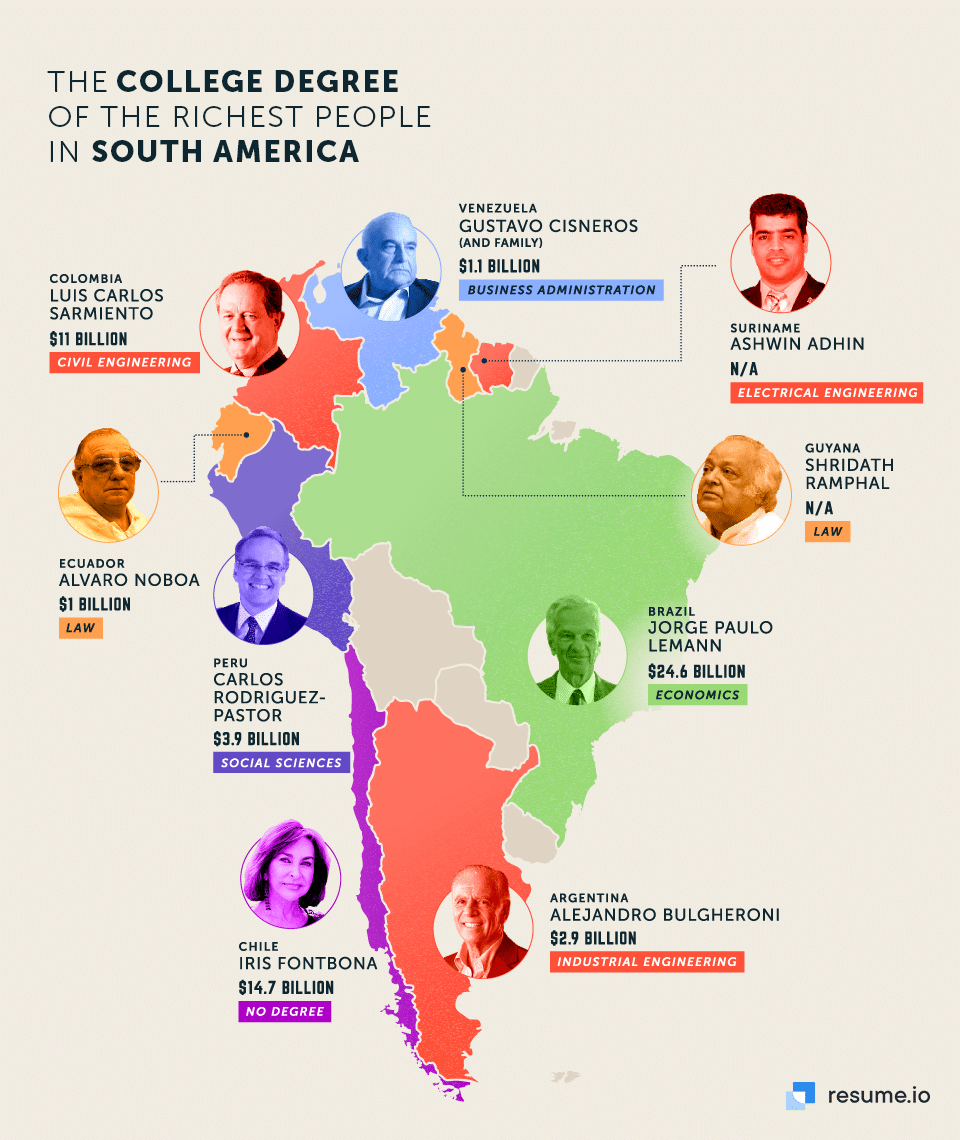 6. Oceania
The richest person 'down under' is the Australian Gina Rinehart. She doesn't have a full degree but learned the basics in the first terms of an abandoned Economics degree at the University of Sydney. She soon left her studies to learn on the job at her family's iron ore mining business – later saving the company from bankruptcy.
Perhaps what is most important is not what you learn, but how you learn. Study with enthusiasm, humanism, an open mind, and a healthy curiosity, and you will become a smart and adaptable professional capable of giving back to the world around you.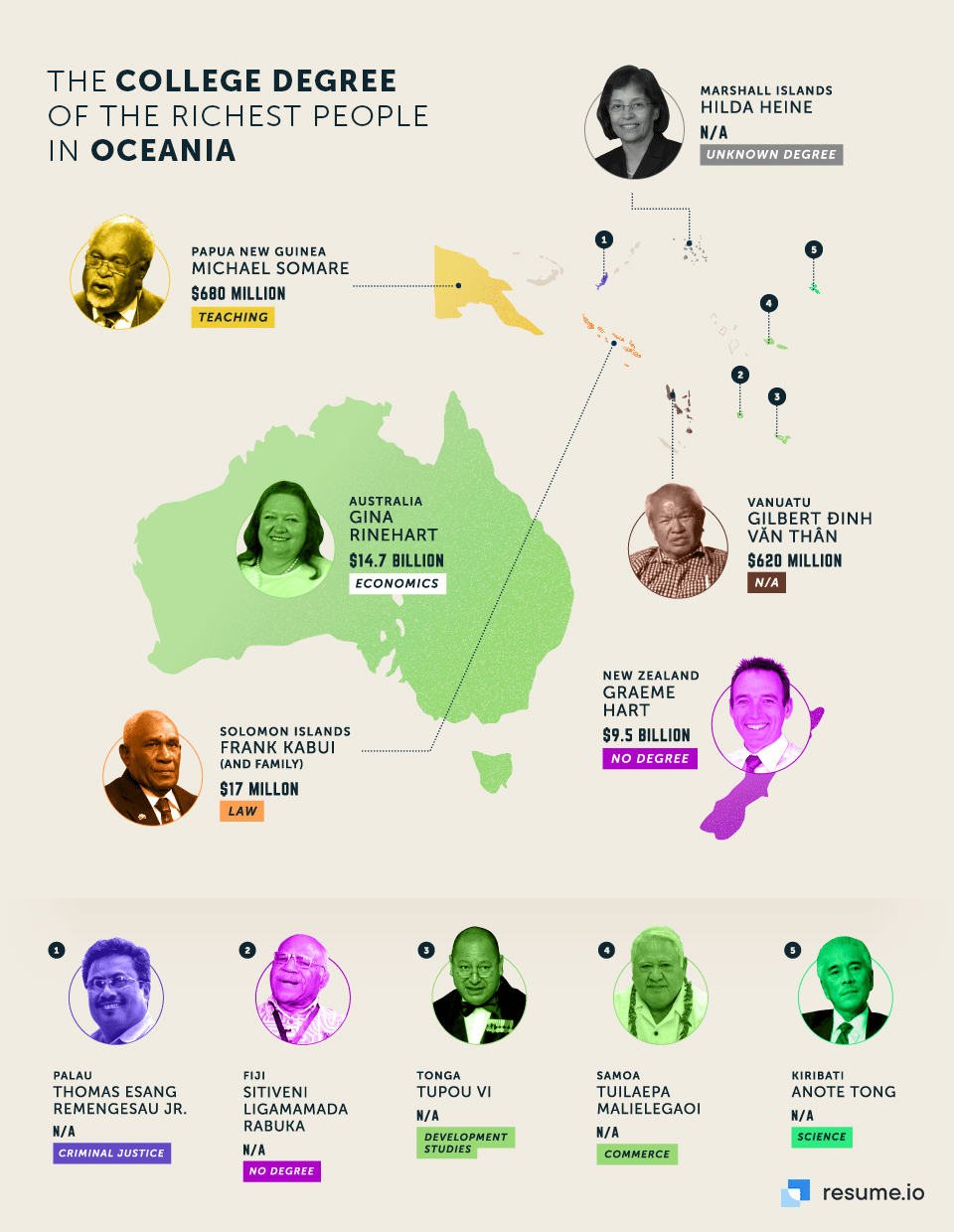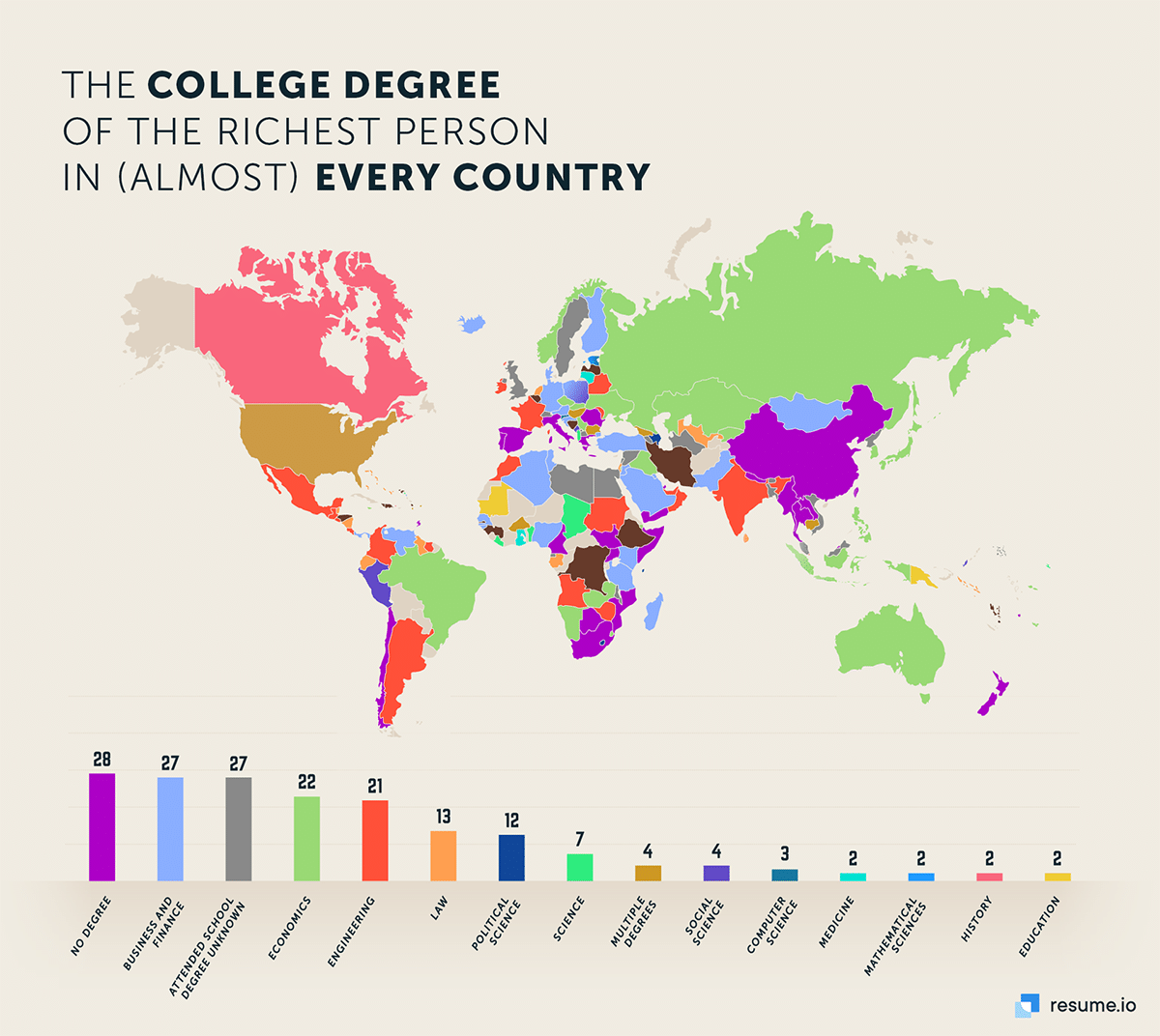 About the author: John Cole writes on behalf of NeoMam Studios. A digital nomad specializing in leadership, digital media, and personal growth topics, his passions include world cinema and biscuits. A native Englishman, he is always on the move, but can most commonly be spotted in the UK, Norway, and the Balkans.