The sphere of information technology is the world's most rapidly growing. Almost every company needs IT specialists. The demand for developers is so high, that employers are actively competing for IT specialists. Since a great number of high-tech companies and startups are focused in Europe, the shortage of IT specialists is particularly acute in this region.
How to solve the problem?
European IT companies deal with the issue by hiring international specialists. One of the best options for the European IT market is to employ Russian-speaking specialists.
There are several reasons:
Specialists from Russia, Ukraine, and Belarus are "hot" candidates. They consider job offers in Europe with enthusiasm since the region has a high standard of living, competitive salary, and high demand for IT specialists.

Russian-speaking expats are close to Europeans in terms of mentality. They easily adapt to a new place and do not experience a severe "culture shock" when moving.

Russian developers are considered to be the world's best specialists. According to data collected by

Hackerrank

 Russia ranks second on the list of the best IT specialists, as there is a very good technical school in the country. Chinese developers hold the top spot. However, it should be noted that most of the Chinese experts don't know English, are not always ready to relocate and differ from Europeans culturally. Therefore, it is more efficient to hire Russian-speaking IT specialists.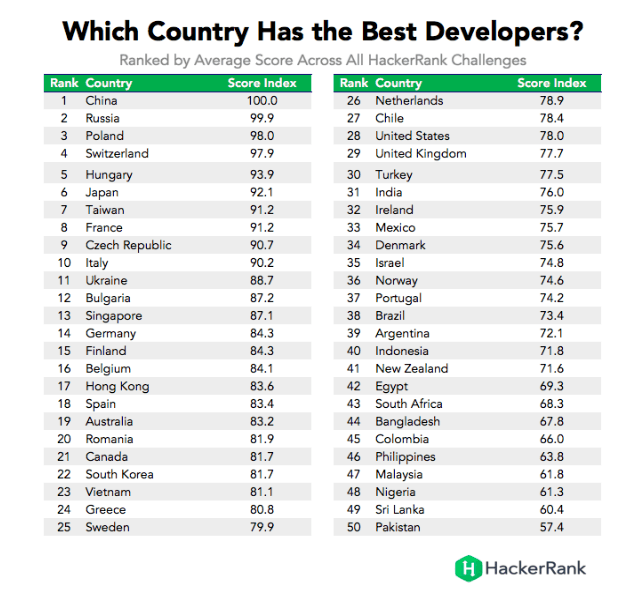 Difficulties
To relocate a specialist from another country, you need to have time, patience and money. The process is rather complicated, that is why it is better to prepare in advance in order to be aware of all the relocation pitfalls and features.
So, to transfer a specialist to another country, it is necessary to:
prepare the documentation package;
Each country has its own list of documents. For example, in order to relocate a specialist to the UK, an adopting company is obliged to have a sponsor license. In some cases, an employer has to convince European consulates of the absence of a specialist with a similar background by providing the appropriate documents. I also recommend making sure that the candidate has all the necessary documents and his passport is not expired.
Sometimes a candidate has problems with getting a visa. Consulates refuse to grant a work visa to a specialist or a member of his family. In this case, you need to either search for a new candidate or face up to the challenge. This will slow down the relocation process and may involve heavy costs.
test the candidate's English or local language knowledge;
Some countries, like the UK, demand from a candidate to pass the language test. You will spend not only more time but also money. Take it into account.
organize the specialist's relocation;
To hire international experts is precisely more expensive for an employer than to hire local ones. The employer pays the specialist's and his family members' passage, visas, accommodation.
Overall, it takes three to four months to relocate a specialist. From my experience, the minimum period for which the developer was relocated was a month and a half.
By the way, the speed of filling a job opening depends largely on the employer. If the customer swiftly reviews CVs and gives feedback, the chances that the specialist will quickly get started are quite high.
Risks
The specialist's relocation is attended with certain risks. The employer should take it into account. Since interviews are conducted in the online mode, you or a specialist may get the wrong impression about future cooperation.
The candidate may not be competent enough for you. You'll have to train him, spend more time on adaptation.

The specialist may get disappointed in the company or not blend into the team.
Therefore, it is desirable to meet face-to-face for the final interview. Personal acquaintance with the candidate will provide greater confidence in a long-term cooperation.
In some cases, an expat and his family members may simply not settle down in the country and return home.
However, according to my agency data, in 90% of cases, specialists easily take root in a new place. Russian candidates don't experience "culture shock" and quickly adapt to new conditions.
Tips and recommendations
Hiring a foreign IT specialist will not be difficult for you if you hit the right path. I advise you to follow three simple rules for success:
Resort to specialized recruitment agencies, because they know the local market and speak the same language with the candidates. They are well versed in the issue and will simplify the relocation process for you.

Don't take too long with staff recruitment, especially if you select a specialist from Russia. There is an active struggle for developers in the country, so there is no time to spare.

Make competitive offers. Developers are more likely to move with the family, so they need to have a rather high salary to keep it.
The relocation of Russian-speaking IT specialists to Europe is becoming an increasingly popular way of recruiting staff. If you can't find the specialist in your region – look for professionals in other countries. This is a good way to solve a problem, and, in truth, quite simple if everything is done correctly.
About the author: Tatiana Melnichuk is the head of the international IT recruitment agency Lucky Hunter. For more than 10 years she's been recruiting staff for IT companies all over the world, holds lectures and training courses. She knows how to recruit the best IT specialists, where to find them and what to do if you need to relocate a specialist to your country.