The nation's working practices have changed dramatically in the last year, with many employees now working from home on a semi-permanent basis, and for those who can't, they're facing new working conditions with PPE becoming compulsory.
Given the circumstances, it is imperative to keep your workforce as motivated as possible and be sympathetic to the changing situation. There are many factors that come into play when creating the optimum atmosphere for a productive workday, whether it is at home or at the office, with music being a key part of this.
Sodexo Engage surveyed 2000 employees in the UK to discover the most recommended genre of music they listen to in order to stay productive. With its upbeat and rhythmic tones, pop music topped the charts closely followed by pumped-up rock and beat-driven dance.
Table 1: The top ten most recommended music genres for productivity
| | |
| --- | --- |
| Genre | % listening to this genre |
| Pop | 58% |
| Rock | 47% |
| Dance | 42% |
| R&B | 37% |
| Classical | 34% |
| Hip Hop | 31% |
| Indie | 29% |
| Country | 20% |
| Other | 14% |
| Jazz | 13% |
Surprisingly, although historically discussed as a prime genre to improve focus, classical music just made the top 5. However, out of the most recommended artists, Mozart made the top three with the show-stopping Figaro's Wedding being mentioned as a must-listen.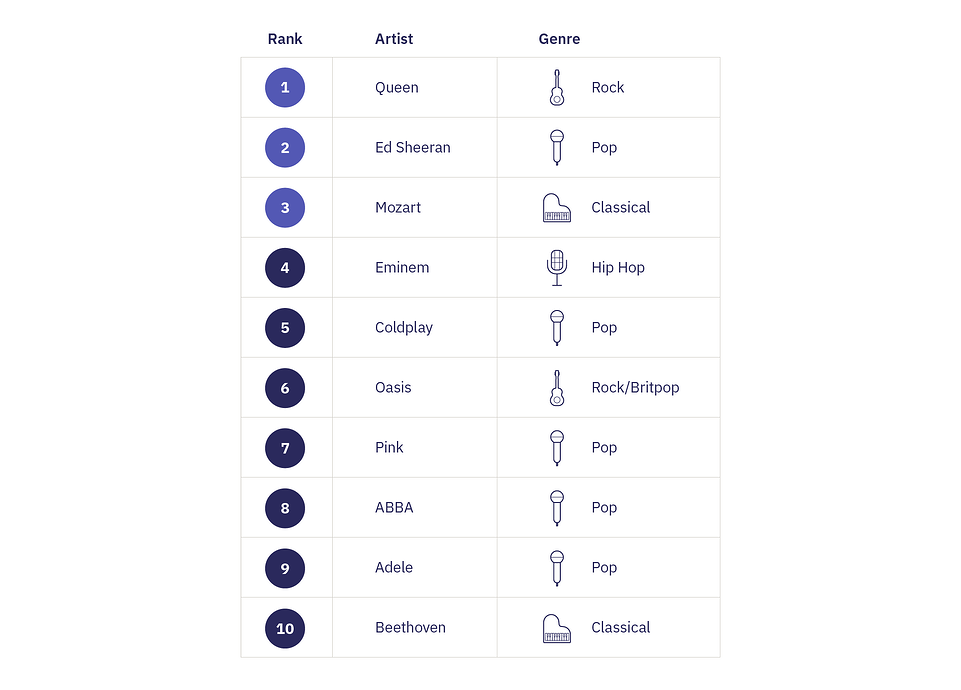 Recommendations for every mood
When it comes to recommended artists there is something for every mood. If your team is looking for some motivational morale-boosting goodness then the British rock band Queen, who charted in first, has the goods. Their motivational beats like 'Don't Stop Me Now' and 'We Will Rock You' were just some of the hits recommended by respondents. Equally, if they're in need of some calm and chilled out vibes, then second place Ed Sheeran is perfect with 'Thinking Out Loud'.
Pop music is the most productive genre no matter what the task
The task you are doing very much dictates the type of music that is a benefit to you. Upbeat pop music is the most popular by task breakdown across the board including writing (36%), reading (18%), manual labor (34%), and administrative work (32%), however, we do see other genres creep into the mix as well. Work that requires a more focused mind, such as reading and writing, see the soothing sounds of classical music feature. Classical often offers a calm and light feel with instrumental tones, in fact, 38% of respondents prefer to listen to instrumental music when trying to be productive.
Engineers are the most passionate professionals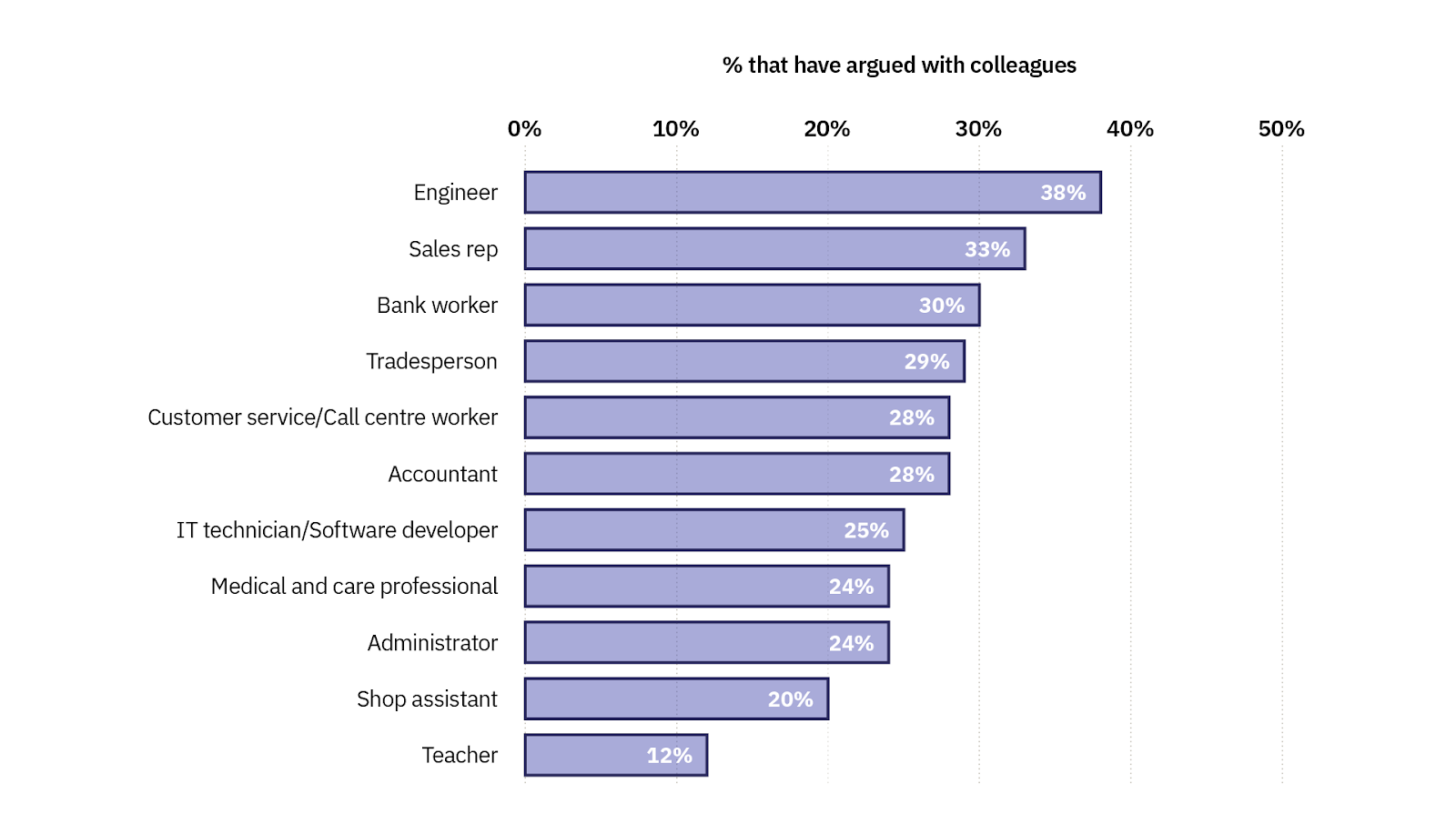 Not all music genres are favorites for everyone and when working in a communal setting, we often have to listen to the same tunes. Engineers are the most passionate profession with 38% of respondents admitting to arguing with colleagues over what to listen to whilst on the job. Sales reps (33%), bank workers (30%), and tradespeople (29%) also made the top five most passionate professions.
Keeping remote workers motivated by music
Music can offer your employees an outlet for release and an opportunity to get pumped up for the day or a big project. It's very important to offer suggestions to your employees, on how they can best balance their workload and keep up their motivation, particularly whilst working from home. In fact, 56% of respondents said music makes them feel less lonely when working from home and 61% also said it helps boost their morale.
Using music to help boost productivity certainly has its benefits, and Sodexo Engage has used its insights to create a "Productivity Playlist" for you to share with your employees or use yourself.
Commenting on the research, Emma Yearwood, Director of HR at Sodexo Engage says:
During this time it's so important to help employees feel motivated, positive, and productive in their role. With music being a strong commonality in the workplace across the world, some professionals have missed out on this as we are forced to work from home during lockdown.

Between pop and rock music, it was a close call, but with pop being a style of music that resonates with different professions, the results prove just how popular it is in the workplace.

Given the variety of music artists that made the top ten recommendations, such as Queen, Ed Sheeran, Abba, Oasis and Coldplay, it goes to show that getting your working surroundings right is so important in ensuring your employees can work happily and feel positive about the task they're undertaking.