We've all experienced the kind of horrors like spiders and the odd mouse which can have people screaming in fear in the workplace, but there horrors of another kind which are more common in the office – the manager kind.
Recent research commissioned by Perkbox has found that over half of working Brits have had a nightmare about their boss at least once in their life, with 46% admitting they have had this occur several times.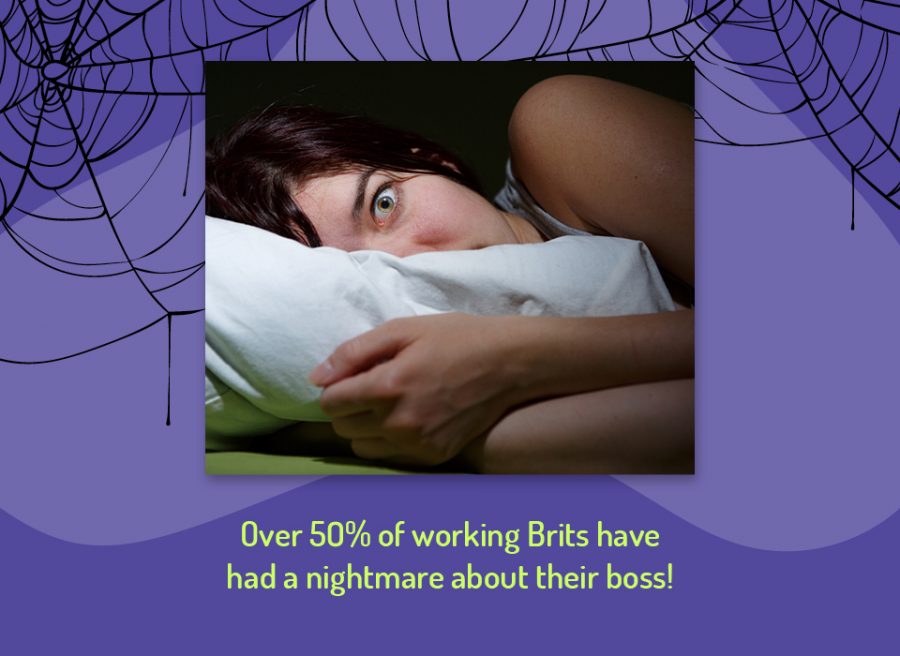 The research, which polled 1,000 employed UK adults, found that when asked what workplace horror they feared the most,  having a 'bullying boss' came top, chosen by 28% of respondents. This was followed closely by having a toxic workplace culture (21%), team conflicts and surprise overtime hours – with the two latter chosen by 10% of employees.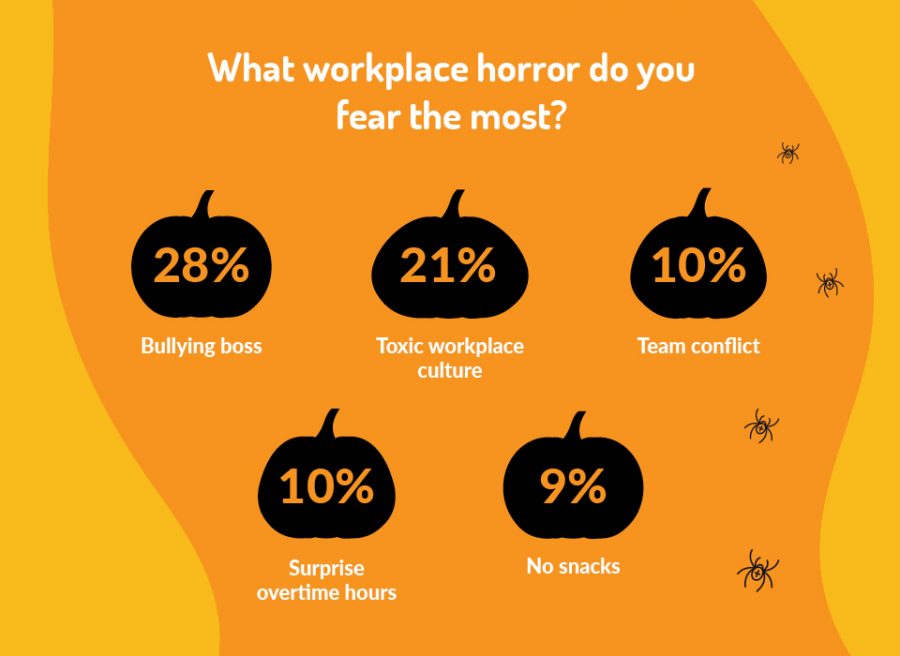 Interestingly, despite the rise of tech and new communication channels entering the workplace which in some instances may be oversaturating workplace communications, 'communication overload' came bottom of the pile and was only chosen by 3% of employees as their most feared workplace horror.
With regards to mistakes at work that haunt employees the most, the more traditional error of calling a colleague by the wrong name ranked in the first place (19%), followed by making an embarrassing typo on a document (18%) and sending a confidential email to the wrong contact (13%).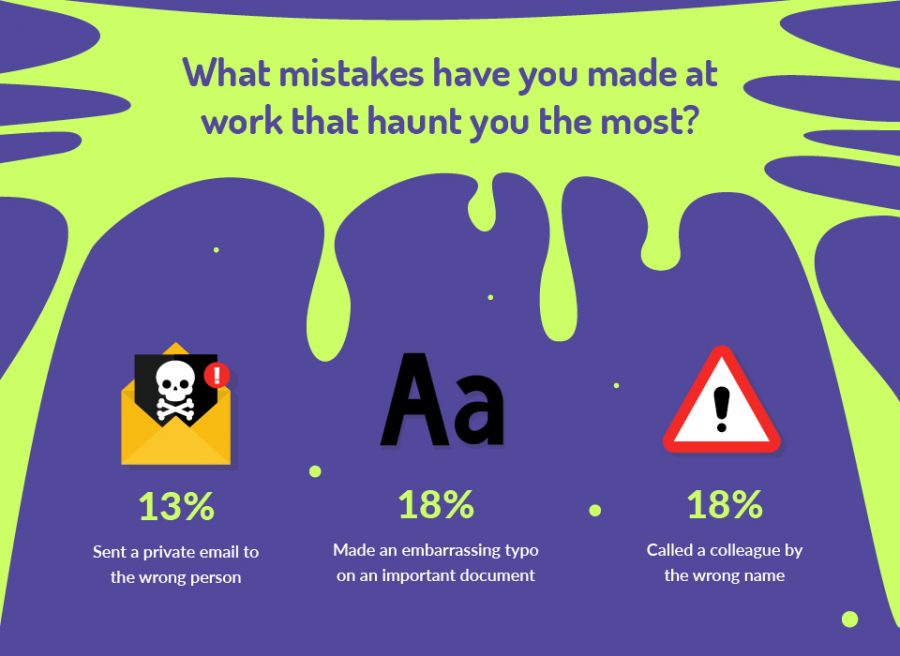 On the flip side, finishing early was the preferred treat, chosen by 40% of employees. This was followed by a company bonus scheme (27%), perks in the office such as table tennis, free snacks and coffee (18%) and free beers on Fridays (6%).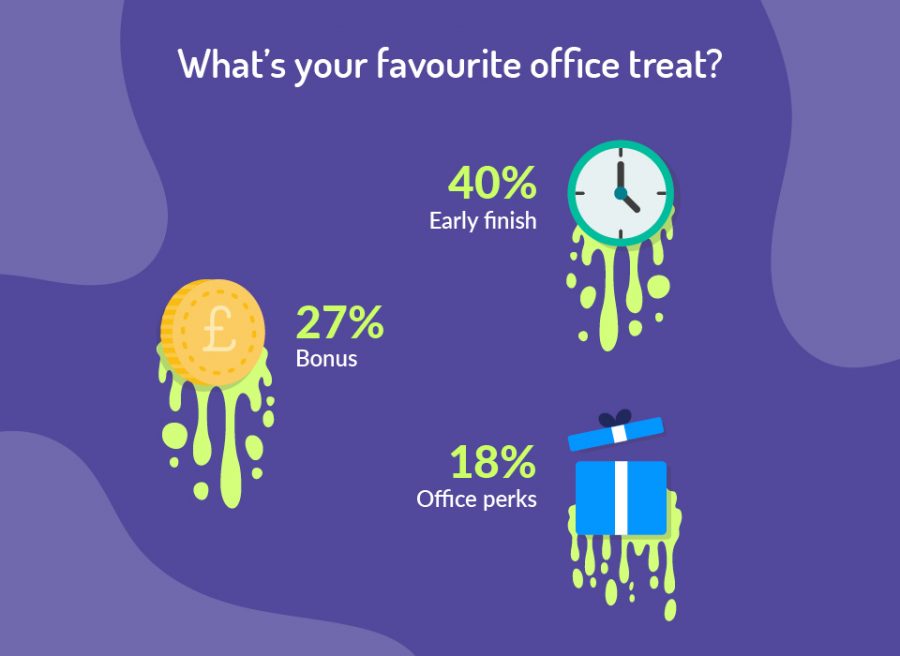 Finally, when asked 'what would a nightmare colleague have to do to annoy you the most?', having bad manners such as chewing food loudly and not cleaning up dishes and mugs after themselves ranked in the first position. Taking credit for others' work ranked in second place, followed by playing music extremely loudly and being an office slacker pretending to work.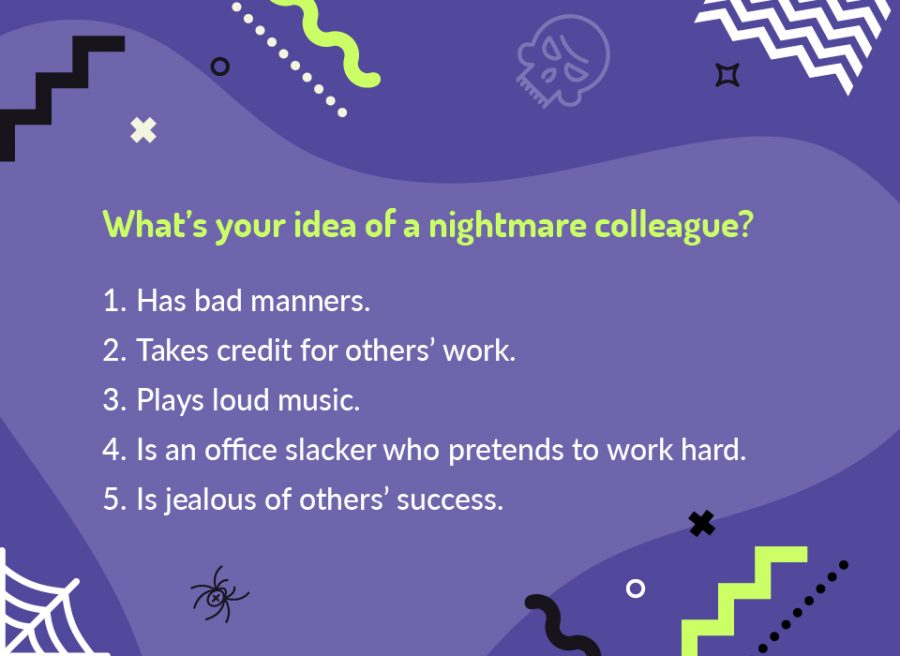 Madlena Pozlevic, Employee Experience Lead at Perkbox says:
"With Halloween fast approaching, these findings are meant to give us a "humorous" insight into a side of workplaces that aren't – perhaps not surprisingly! – quite so appealing to employees. Whether Halloween or not, as employers, we should take these findings as one of the many reminders that workplace rules around professionalism at work always apply, without exception. As these findings show, they certainly do not go unnoticed amongst employees."
TOP 6 – NIGHTMARE CO-WORKERS:
Having bad manners
Taking credit for others' work
Playing music extremely loudly
Being an office slacker
Drops by your desk unexpectedly
Being jealous of others
Whatever the workplace horror may be, most of them can be quickly sorted out by management if they've been raised through the appropriate channels. And whilst pest control might not be able to eradicate these office horrors, there are ways and means of getting rid of them for good.
About the author: Perkbox is a platform that provides a unique employee experience, enriching the personal and working life of employees. It offers a suite of products including a platform with access to best in class Perks, Perkbox Medical, Perkbox Recognition, and Perkbox Insights. It serves companies of all sizes from SMEs to large companies such as Whole Foods, Nando's, Caffe Nero and Levi Strauss & Co. Headquartered in London, with offices in Sheffield and Paris, Perkbox has raised over £11.0 million in funding from the leading European venture capital firm Draper Esprit.